Veneer Redryer
Increase your plant's veneer production without increasing energy costs with a Westmill Veneer Redryer.
With heating energy costs being the highest cost factor in drying veneer, solutions to reduce the cost of veneer drying per square foot are welcome.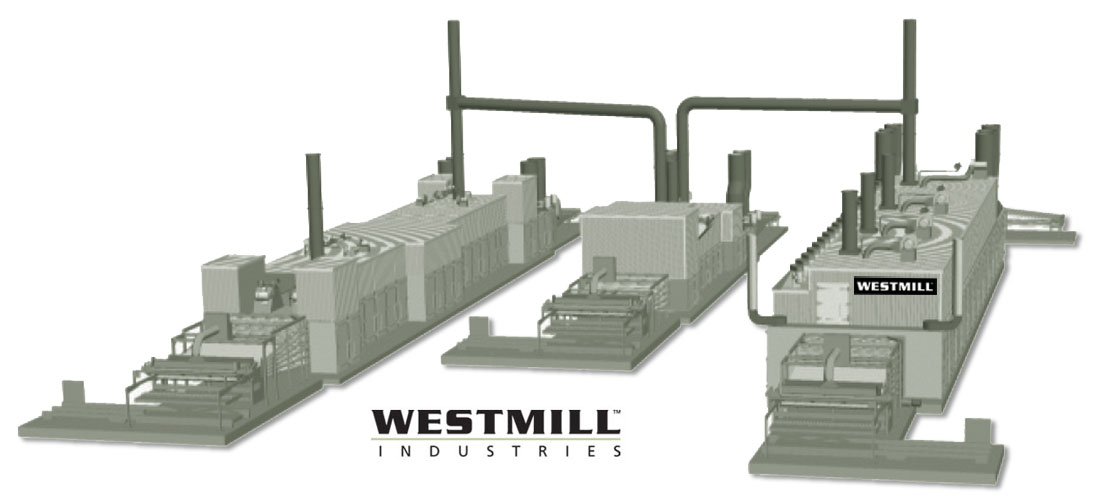 A 6-deck Jet Dryer and a 6-deck Longitudinal Dryer heating a Longitudinal Redryer
Low Capital Cost
Many plants feel the pressure to install new, larger veneer dryers, and often remove existing small, old leaking Dryers. We at Westmill are the Veneer Dryer Experts, our ingenuity allows you to salvage parts from your old Dryers and reuse them as part of your new Redryer!
Because a Redryer can often be a short Dryer (as not as much drying is required), the feeding and unloading rate for the Dryer is less. So, chances are, we can incorporate existing infeeds and outfeeds with little to no modification required.
In addition, the conveyor (rolls, jet tubes, etc.) and fans from your existing Dryer can be reused, with Westmill supplying a new housing, stainless floor, and door and door-seal system to seal up the Dryer and prevent in-plant emissions and increase heat recovery.
Case Study: Coastland Wood Industries
Westmill installed its first Veneer Redryer at Coastland Wood Industries in 2005. Coastland purchased a decommissioned Proctor-Schwartz 2-level screen jet Dryer.
Westmill kept the screen conveyor, jet tubes, fans, and supplied new doors, stainless floor, flue gas delivery, and exhaust system.
Coastland reused its existing Infeed Chains, Scissor Lift, and Feeder Tipple, while Westmill supplied a new Vacuum Feeder, Infeed Rollcase, Sequential Unloader, Multibelt Conveyor, and Corner Transfer Conveyor with Reject Tipple.
The system was predicted to run at 10 sheets per minute and be heated by the two other Westmill Longitudinal rebuilt Dryers. In fact, heat from only one Dryer was required, and the Redryer dried 15 sheets per minute. Provisions to add a third drying deck to this Dryer have been made. Coastland's dry veneer production has increased between 5 and 15 percent.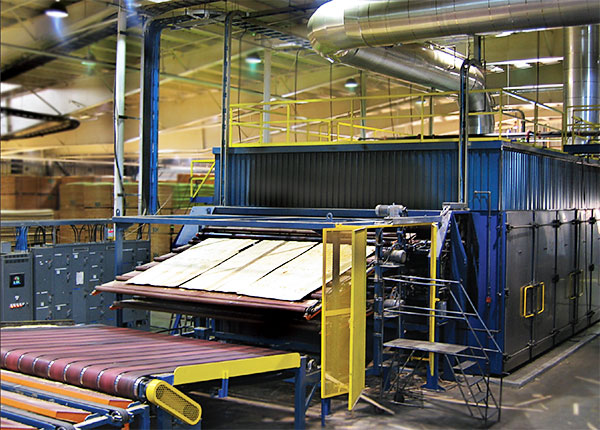 Screen Redryer installed at Coastland Wood Industries, Delta B.C