VENEER DRYER REBUILDS
Westmill has been serving the Panel Board Industry since 1975. We provide new dryers, rebuild old dryers and offer custom engineered dryer solutions. Westmill has a reputation for providing excellent products, timely service and valuable knowledge to our customers. We maintain an inventory of dryer parts in three strategic locations:
Atlanta GA, Eugene OR and Vancouver BC.
Westmill specializes in dryer modification projects and have engineered the rebuilding of almost every style and brand of dryer existing today.
As Dryer's age, they begin to leak and use more energy to maintain the temperature set-point. Dryer production drops and maintenance costs rise. When the dryers can no longer keep up with production demands, owners often believe their only option is to purchase a NEW Dryer.
Before making the costly decision to purchase NEW, consider this: with a Westmill All-in Dryer Rebuild, your machine will look, operate, and perform like a new, state-of-the-art dryer featuring quality Westmill components — at significant savings versus new. Rebuilding also saves considerable permitting costs and time, with faster delivery and reduced downtime compared to a new dryer.
Westmill Quick-Install Door Cartridge System
Replace your leaking dryer doors with the Quick-Install Door Cartridge System. Improving the seal around your dryer doors will reduce your energy demand thus reducing your overall dryer operating costs.
Quality components:
With a Westmill All-In Rebuild, typically, the only existing parts re-used are the conveyor & frame components. Depending on the condition, this typically includes the rolls, sprockets, star-gears, gudgeons, bearings, hangers, drive chain, and the supporting framework. All remaining components necessary to modernize the dryer housing, heating, and fan systems to bring your dryer back to "better-than-new" condition are engineered and supplied by Westmill.
Seal-welded housing: A completely seal-welded Dryer housing ensures a leak-proof dryer and a clean, smoke-free plant without having to maintain panel seals and joints.
ROBUST fan modules: Nobody builds air-circulation fan modules as robust as Westmill. With maintenance-free longevity in mind, Westmill's fan modules are built to last. Using welded heavy tube frame construction, a proprietary Westmill spring fan-shaft packing gland, exclusive high-temperature fan shaft bearings, Class III NYB fan wheel, and inlet cone, Westmill's fans are built to provide years of maintenance-free service.
Dryer floor system: Westmill was the first company to engineer and install an entire Stainless Steel Insulated floor system over an existing factory concrete dryer floor. Our insulated stainless steel retrofit floor system is designed to easily install under an existing dryer providing for a fast installation.
Westmill's retrofit dryer floor eliminates arguably the most neglected and difficult-to-replace seal in a veneer dryer. This is the floor seal between the original concrete foundation and the dryer's lower door frame. Often ignored especially on the low-pressure side of the dryer, this leaking seal is the primary cause of dryer fires, while also negatively impacting veneer quality, reducing production, and increasing energy consumption.
Modular Dryer Components: In an ongoing effort to reduce installation costs AND minimize downtime, Westmill provides pre-assembled modular components in many areas, including fans modules, door-frame-hardware modules, burner assemblies, and gas trains.
Patented Dryer Exhaust and End-wall Seal Section modernization & control: Westmill can upgrade and modernize any make and model of dryer to include the latest in Patented dryer humidity and emission control systems.
Dryer PLC control systems: To complement the Dryer's mechanical systems, Westmill provides 'state-of-the-art' dryer controls including burner/steam control, flame safety, dryer exhaust, and humidity control, pressure control, automated floor-water spray systems, touch-screen PLC panels, pre-wired pre-tested cabinets, VFD systems, infeed & outfeed control and more.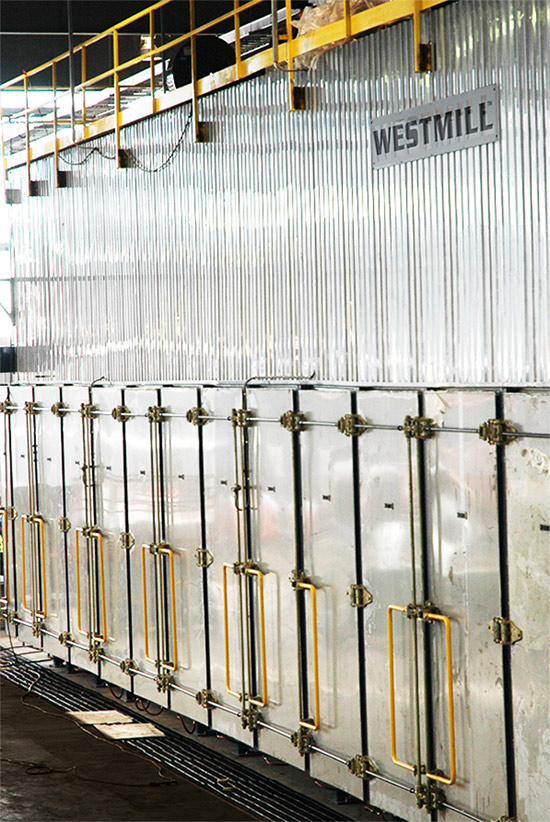 Knowing the Details behind a Westmill Dryer Rebuild.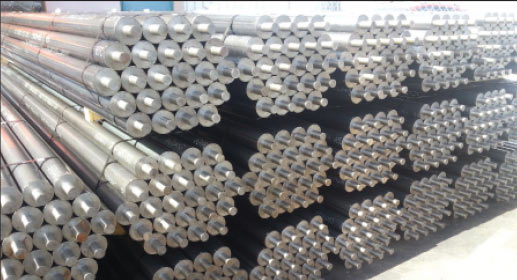 Quality Components
Westmill provides ALL the quality components necessary to completely rebuild your entire dryer.
Seal-Welded Housing
We will rebuild your entire dryer housing to better-welded and re-skinned.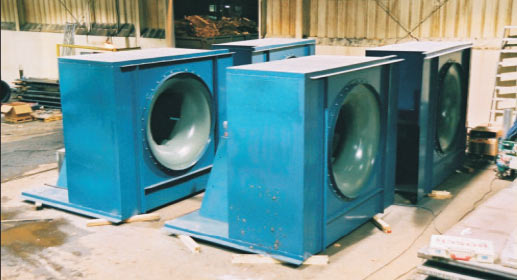 Seal-Welded Fan Modules
Well insulated, seal-welded than-new condition. The re-skinned fan modules' new housing will ensure a leak-proof and completely insulated, seal-efficient dryer.
Every effort is made to minimize downtime during the rebuild by pre-assembling modular components in advance.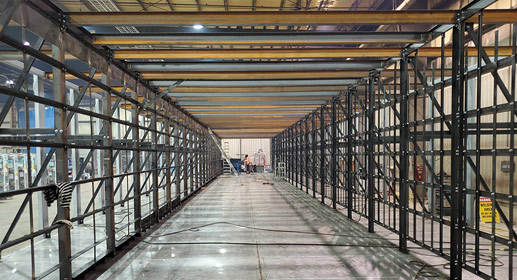 Dryer Floor System
Mild or stainless steel insulated floor panels can be provided and are seal- welded together, creating one continuous floor surface. The steel floor together with the Door Cartridge System eliminates the most difficult dryer seal area to maintain, between the concrete floor and door frame.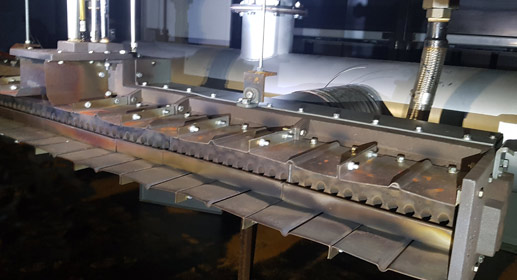 Heating System
We offer a variety of air heating (gas burner) solutions for our dryer rebuild customers.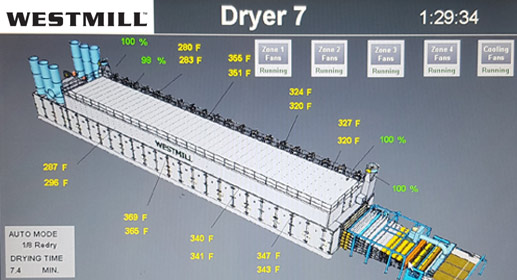 Dryer Control
Our dryer control package includes touch-screen PLC controls with pre-wired PLC cabinets, VFDs, burner control and exhaust damper controls.