BOARD DRYER INSTALLATIONS
Years of experience in building new dryers and rebuilding existing dryers has provided the essential basis to engineer, design and manufacture superior dryer systems.
Ever since our foundation in 1975, we have consistently maintained our core focus: to be the Leader in Board Drying Technologies. Our focus combined with our innovative culture has led to a continuous series of dryer improvements. Often, these same dryer improvements conceived, engineered, pioneered, and proven by Westmill, eventually end up being incorporated into competitors' products.
Our success is based not only technical excellence, but something else that our competition just could not, or would not provide: a willingness to tailor our solutions to meet the customers' needs and budget.
Westmill's new board dryers are the highest production, most energy-efficient dryers in the market today.
We have completed hundreds of projects and have established a large installation base of new and rebuilt board dryers throughout North America, South America, and Australasia.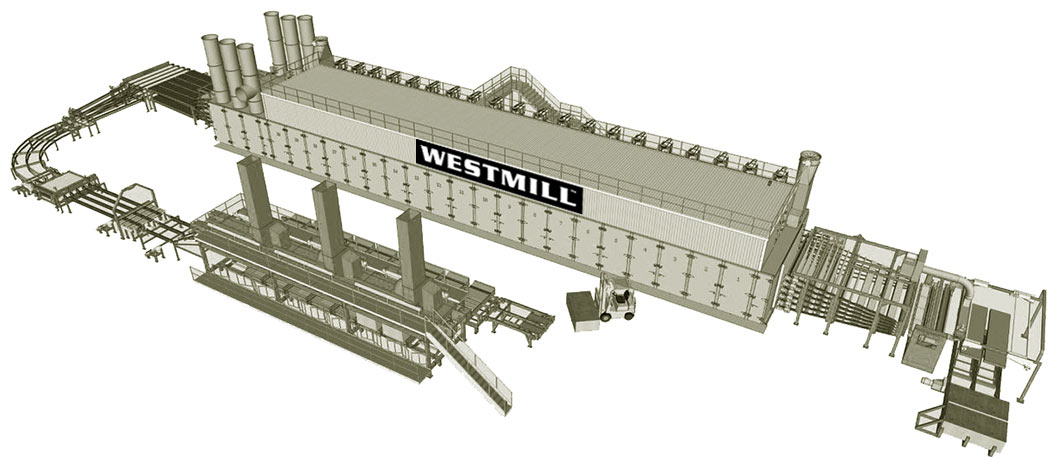 NEW Veneer Dryers
Westmill offers complete Veneer Drying Lines with an Automated Infeed, 4 or 6-Deck Jet-Dryers, Automated Outfeed, Grading and Stacking Equipment.
Many features that are optional on other systems are standard equipment on Westmill's Dryers. Our robust designs and quality components will provide you with many years of high production and minimum maintenance expenses.
NEW Gypsum Dryers
Westmill have developed their New Gypsum Dryers based on many years of Dryer Rebuild experience. We are familiar with the features and benefits of all dryers and have drawn from the best ideas, incorporating our own improvements to provide the best solution for your drying needs. We offer 6-deck, 8-deck or 10-deck dryers with Longitudinal-flow or Cross-flow design.