DRYER OUTFEED SYSTEM
The Dryer Outfeed system quickly unloads the veneer sheets from the dryer, merges all six decks of veneer onto a single belt, and conveys the sheets of veneer to the Veneer Grading line. Westmill's system makes this process as quick as possible while minimizing sheet skew.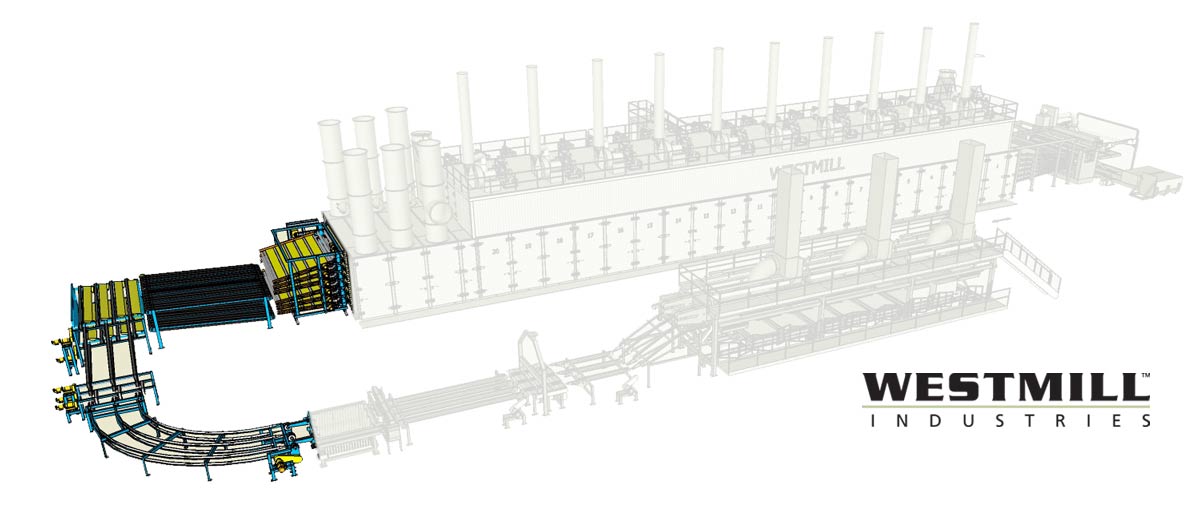 Six Deck Sequential Unloader
Sequential unloading results in more consistent grading and reduces dryer outfeed plug-ups and veneer sheet damage, especially at higher veneer processing speeds. Sheets are removed from the dryer as soon as they are detected, thus optimizing the system to its fullest, which is critical when operating at the highest possible dryer speeds.
Inch Rolls and Veneer Detection:
The infeed of the sequential unloader features two pairs of pinch rolls at each of the four vertical decks. The pinch rolls rotate faster than the dryer rolls, thus pulling the sheets from the dryer and creating a gap between the veneer sheet loads.
Typically, the veneer inside the dryer can have anywhere from a 6" gap between sheet ends or they can be butted up or "overlapped" by one inch or more.
If the unloader did not "pull" a gap between sheets, the multiple decks of the dryer would not merge evenly to one level, as we would sense a continuous flow of veneer on each deck and a bottleneck would occur.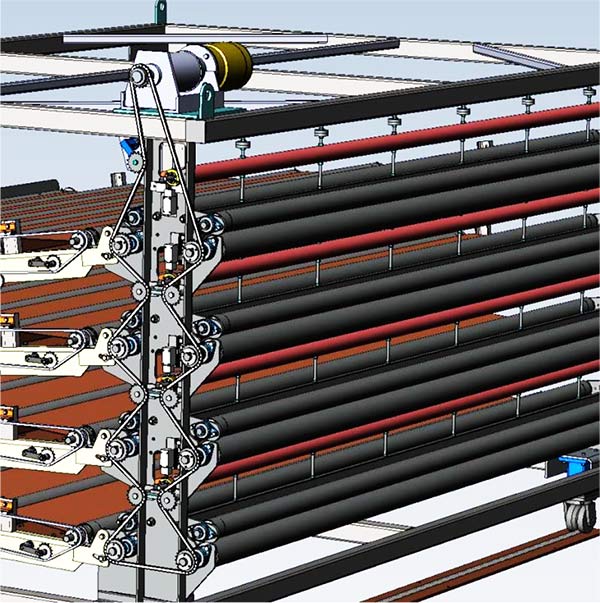 Speed Up Rolls:
Westmill Sequential Unloader is unique with our larger bottom roll design. The bottom roll of the unloader pinch rolls are 5" inches in diameter for extra stiffness and reduced deflection. It is important that minimal 'daylight' be visible between the rolls of a pinch roll pair. Any gap can adversely affect the matched forward conveying of the three veneer sheets and the Westmill larger bottom roll design helps to eliminate this problem.
The pinch rolls are driven by a single gear reducer, combined with a C-flanged NEMA electric motor. The reducer output shaft has a single sprocket, which drives a continuous "serpentine" chain around all of the pinch roll decks.
The two columns of pinch rolls are all driven by the same single chain. Idler sprockets provide a generous wrap angle of chain around each pinch roll sprocket, ensuring positive drive of the pinch roll sets.
A "Rosta" Elastomeric Tensioner, complete with its own idler sprocket ensures that the chain always remains properly tensioned. This style of chain run is trouble-free compared to double-single chain drives used by others in this application.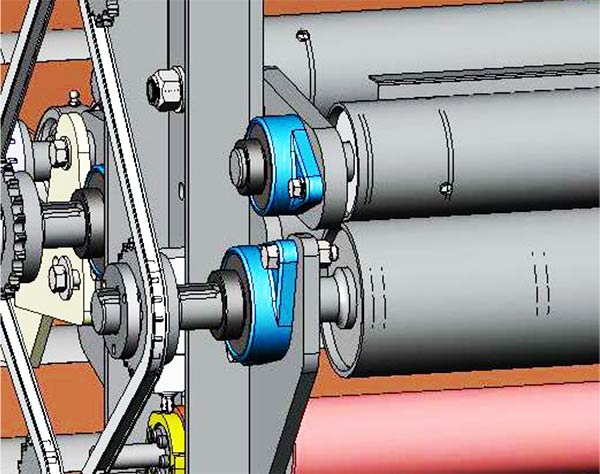 Ejection Rolls:
Each of the unloader decks features an independent set of sheet discharge rolls. Each deck is powered by an independent 1.5 HP electric gear-motor directly coupled to the outboard-most end roll.
Installation:
Our unloader is shipped completely pre-assembled and ready for a quick and easy installation. Westmill's unloader includes steel wheels and guide rails allowing easy movement for cleaning or accessing the dryers end-wall baffles.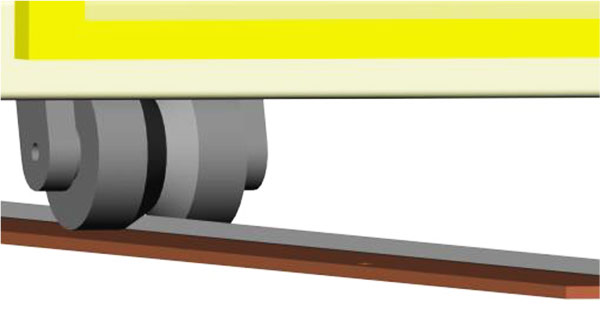 "V" GROOVE WHEEL & TRACK:
This Sequential Unloader is equipped with two foundation tracks, which permit the unloader to be wheeled away from the dryer outfeed end wall for cleanout, baffle replacement/adjustment and/or roll replacement.
The components included with this Sequential Unloader are:
Sequential Unloader with wheels and track

One (1) 5 HP electric motor. NEMA TEFC frame, C-flange mounted, 1750 RPM nominal, 460 Volt, 3 phase, 60 Hz, to drive all pinch rolls.

Six (6) 2 HP electric gear-motors for ejection deck rolls.

One (1) pneumatic squaring stop-gate per deck, to align & square sheets before unloading, helping prevent plug-ups at the corner transfer.

Allen Bradley Proximity Switches (one per deck) mounted to individual sensing gates
Double Multibelt
Each MultiBelt Conveyor will have 15 strands of 6" wide conveyor belt, and 3 ply rough top. The approximate width of the conveyors is 18 feet. Each section will be approx. 96" wide to allow for standard shipping. All pulleys are steel (non split), x 10" dia. x 6 ¾" face x 2-7/16" BKS. All are crowned.
The shaft assemblies will include, (4) 2-7/16" four bolt flange bearings. There will be a lower shaft assembly to allow the belts to be supported to support the belt sag as required. This shaft is full width x 2 3/16".
The sections would be designed to be 8 feet wide, for ease of shipping. All sections would bolt together. Fasteners included.
The decking plate is 10 gauge with a 6" channel framework and 5" channel, internal cross members. We would overlap any joints and between sections. The support legs would be designed to bolt on and would be supplied loose.

This conveyor includes the drive assembly framework mounted to one leg assembly. The Motors will be 10 HP with a 10/1 ratio reducer.  The design includes 5V belt drive from the motor to the reducer and 100 pitch roller chain to the head shaft. Mesh guarding is included.
Double Cross-Transfer Conveyor
Veneer is 'launched' from the Multibelt Conveyor to the Double Corner Transfer Conveyor.  With the drop pans in the up position, veneer skids along the tops of the pans and strikes the backstop.
After contact with the backstop, the drop pans pivot to the down position and the veneer is quickly transferred via. the continuously running rough-top belts, which carry the veneer away to the next conveyor or machine in the system.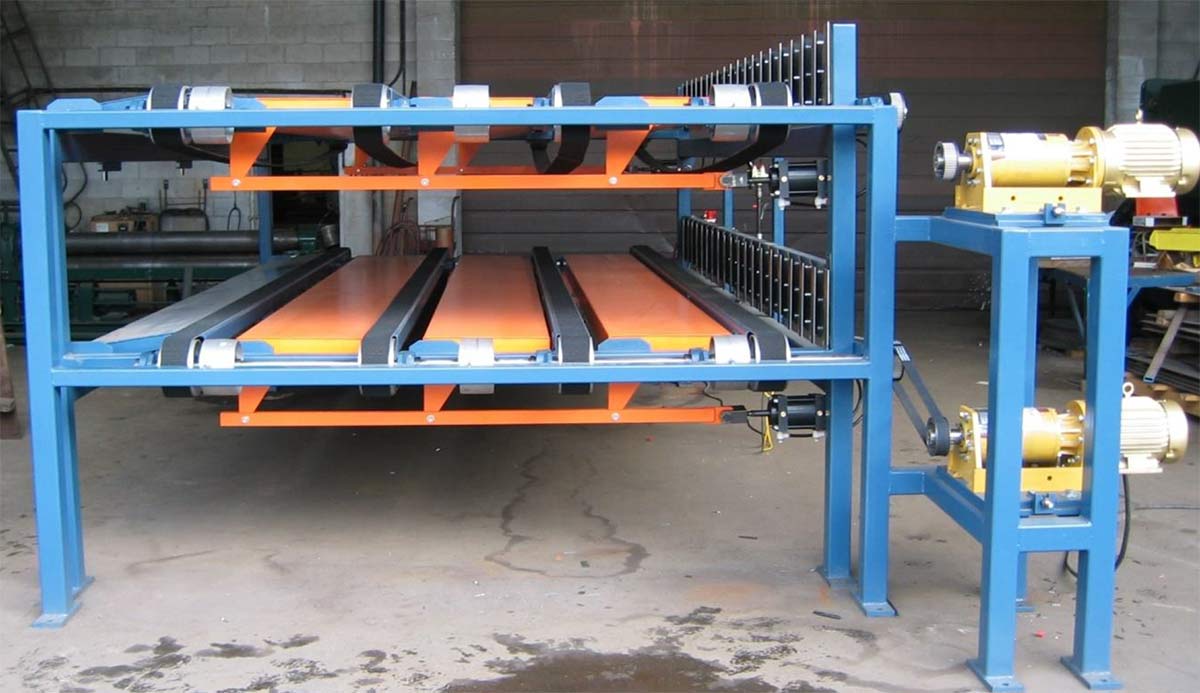 Westmill supply includes:
Main frame with 4 belts per level of Corner Transfer (shown above)
Drive pulleys mounted to head shaft, and idler pulleys with bearings and screw take-ups
5 HP motors with reducers
Polychain toothed drive belt system complete with guard.
Pneumatic cylinders for drop pans
All pneumatic cylinders, valves, and pneumatic lines to 1 main customer hook-up.
Filter/Regulator/Lubricator unit.
Three photo eyes for "sheet present" detection (to control deck pan actuation).
Wiring of valves and photo eyes to the electrical junction box.
Merge Conveyor 2-to-1 Level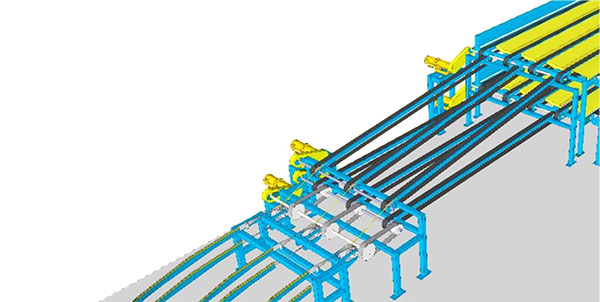 Single 90° Edgebelt Corner Transfer
Westmill's 90-degree Edge Belt Corner Transfer is included in all drives and take-ups. The transfer has the infeed and outfeed transition sections where the belts are turned on edge for the radius.