NEW GYPSUM DRYERS
Westmill have taken every step to make our Gypsum Dryer the best available in the industry today. We have developed our New Gypsum Dryers based on many years of Dryer Rebuild experience. We are familiar with the features and benefits of all dryers and have drawn from the best ideas, incorporating our own improvements to provide the best solution for your drying needs. We offer 6-deck, 8-deck or 10-deck dryers with Longitudinal-flow or Cross-flow design.
By utilizing superior insulating techniques with a completely seal-welded housing, we have designed the most well-sealed and energy-efficient dryer in the market. Our robust designs, using quality components, will provide you with many years of consistent and high production with minimal maintenance expenses.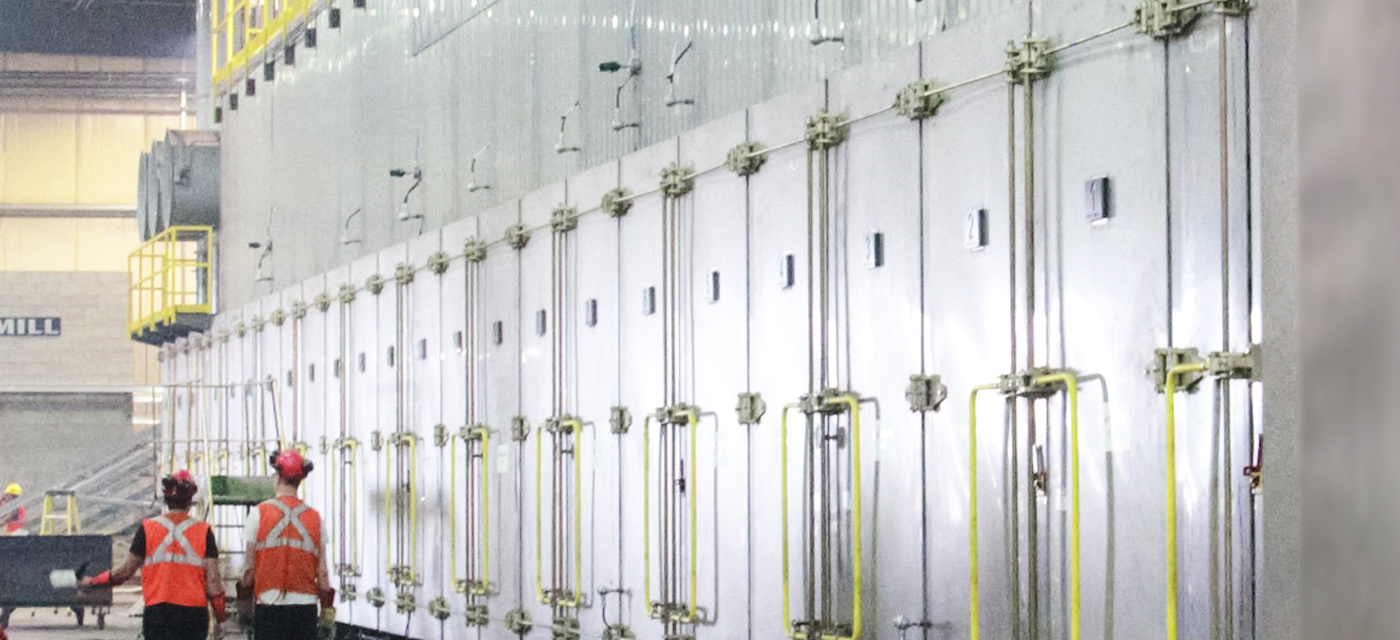 GYPSUM DRYER FEATURES
WestVac End-Wall Emission Control System (Patented)
is an effective method of controlling end-wall dryer emissions, to increase production, save energy, and improve plant air quality.
"Safe Motion" Door Handle Load-Dampener (Patents Pending)
to eliminate any potential risk of 'strike-hazard' for an unsuspecting dryer tender when opening a dryer door, Westmill has incorporated a proprietary new hydraulic load-dampening-cylinder into our Patented Articulating dryer door hardware.
Minimal Heat Transfer Dryer Housing
Designed to virtually eliminate metal-to-metal contact between the inner and outer walls of the dryer's roof and siding. Greatly improves the dryer's thermal efficiency, and reduces pitch build-up inside the dryer, a primary ingredient causing dryer fires. Unlike any other dryer housing available today, WESTMILL's dryer housing is actually 'cool to the touch'.
Channel Vented Hot Box Housing
Compared to conventional flat dryer roofs and side walls, Westmill's Channel Vented roof design allows the dryer housing to 'breathe', preventing any condensation from being trapped in the upper housing. This extends the life of the dryer housing by greatly reducing upper-housing corrosion and allows the roof to expand and contract effortlessly as the dryer heats and cools.
Optimal balanced delivery of airflow (on Cross-flow Dryers)
Optimal balanced delivery of airflow is achieved using adjustable air distribution baffles at the entrance to jet tubes. This feature allows users to fine-tune the dryer's individual decks for optimal performance.
Heavy-duty Jet Tubes
WESTMILL jet tubes are manufactured using 16-gauge sheet metal (while others typically use 18-19 GA). WESTMILL has also incorporated a heavy 12 GA. flange around the high pressure opening of the tube to prevent the usual bending and damage caused during handling and thereby maximizing airflow into the jet tube opening.
Westmill's Dryer Control
The functionality, ease-of-use and reliability of the WESTMILL dryer control system is so highly regarded that we have customer engineering & electrical teams that have standardized on this system across their operations in multiple locations.
What Makes a Gypsum Dryer So Reliable
Hot Air Circulation Fans:
E include Class IV Fan Wheels as standard complete with oversized shafts, and proprietary High-Temp DODGE bearing assemblies (made exclusively only for WESTMILL!).  
Superior Parts & Material Specifications :
WESTMILL's roots are as a dryer parts supplier. Over those years, we best understand what works, what has failed or worn out prematurely. When we specify what components go into a WESTMILL dryer, we incorporate half a century of dryer focus in our component selection. We also have countless proven suppliers supporting us by delivering the best overall value and performance.
Incorporate our Customers' lessons learned  
Many of the improvements WESTMILL has incorporated have come after working alongside customers and their engineering groups to modify existing equipment or after sharing ideas about what would be considered "better".
A WESTMILL Dryer Runs True
one of the most important elements related to long-term & consistent dryer UPTIME involves proper dryer tracking & alignment after years of repeated thermal expansion and contraction events. WESTMILL's careful attention to frame design, and through use of specialized expansion-roller designs ensures that the dryer tracks straight and stays aligned over its lifetime. The results are fewer plug-ups and uninterrupted production after many years of dependable service.
Long-Lasting Doors:
Heavy-duty warp-resistant Dryer doors feature stainless steel on both sides for corrosion resistance.
Westmill™ provides consulting, plant layout, and engineering services to ensure you get the right machine for your facility.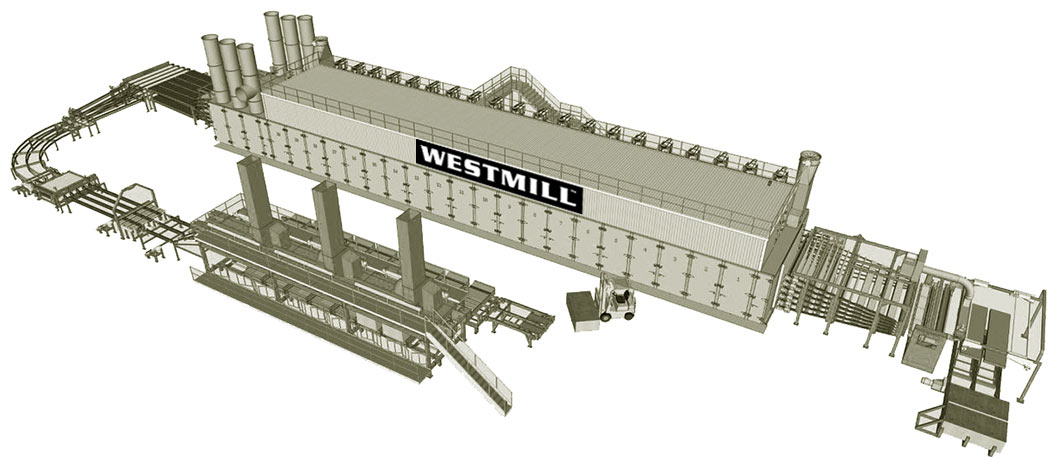 Let us work with you to find the right Dryer solution to meet your needs.