Understanding true moisture content and patterns of moisture within green veneer prior to the veneer being fed into the dryers improves the amount of 'on-target' veneer exiting the dryer.  This is definitive feed-forward predictive control. Gone are the inaccuracies of 'reactive' approach to green veneer drying that dominates plywood manufacturing.
Westmill Machine Automation, the Research and Development Division of Westmill Industries, has been working with Forintek, the forest division of FPInnovations, to commercially develop the concept of feed-forward dryer control. The project is foundationed on the Six Sigma approach to manufacturing which seeks to improve the quality of products by identifying and removing the cause of defects by minimizing variations within manufacturing.
Working towards the goal of effective variation reduction established that key pieces of process equipment currently utilized in the green end of plywood production are seriously flawed, either in technology and/or design. Obvious is radio frequency (RF) based green-end moisture meters, sold under various trade names, all utilizing the same contact-based RF technology.
Efforts to achieve stable and predictable process results proved futile because the core RF technology is flawed in its application as a green-end moisture meter.   Improvement to RF technology's was futile so Forintek looked to other technologies. The solution to resolve inaccuracies induced by the RF systems was to update an old process called "candling". Light transmitted through veneer is captured utilizing modern digital camera technology and high-speed processors. This technology is Westmill's LightSORT™ Green Veneer Moisture Measuring system.
LightSORT generates highly accurate green veneer sorts and detailed sheet & stack information that significantly reduces downstream process variations.  Significant improvements in dryer control in this approach reduced more variations by generating 'feed forward' stack specific dryer recipes  resulting in a significant increase of on-target veneer exiting the dryer, plus improved quality of that veneer.
Loop-back optimization of sort points and sort strategies is now possible. These critical decisions are based on actual dryer results they are not askewed by mis-sorted veneer fed through a reactive system as is the current practice (see diagram 1).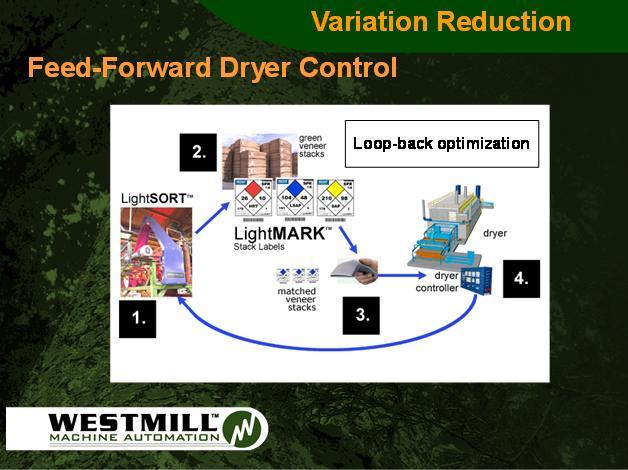 Contact Brian Martin at Westmill Automation for complete details martin@westmill.com